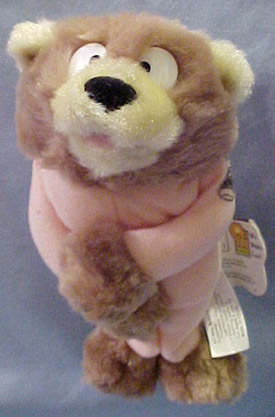 Meanie Bare Bear / w/pink lips no nipples -
(Series 2)
Poem on tag: Not locking his door wasn't wise. He was expecting just one of the guys. Goldilocks barged in, he was down to his skin, and they both got quite a surprise!
8 1/4"
$1.99
$7.99
buy them by the dozen click here

Meanie Burny the Fire Fighter Bear -
(Series 2) Poem on tag: "Burny was back in the woods, where you know he was up to no good. All his clothes needed patches, from playing with matches. So, don't mess with fire understood?!"
6 1/2"
$3.99
$7.99
buy them by the dozen click here